It's pretty safe to say that I do things differently from other videographers.

Unobtrusive
A videographer should capture moments, not make your wedding their personal movie set. With my ninja style, I record the entire day without drawing attention to myself. No crew, no lights.

One Guy, One Camera
I've shot over 500 weddings by myself with one camera and my clients have been thrilled with the results. I love when they write back to tell me how they relived the day. I call it videography without the paparazzi.

Complete Coverage
Although I'm a one man crew, I'm able to capture the entire day. I record the most important parts of the day in their entirety: ceremony, speeches, etc. Then I capture all the wonderful little things in between.

Affordable
My prices are thousands less than other videographers because I don't have a crew and I don't do the long boring edits. First class wedding videography shouldn't be expensive.

Documentary Style
I focus on people & action. I don't direct or orchestrate things. I capture moments as they happen. The result is a wedding video that truly captures your day.

Stunning Technical Quality
I bring over $30k of equipment to your wedding: a $16k cinema camera, $10k in lenses, $4k in audio gear, and more. It's the best stuff money can buy and I know how to use it well.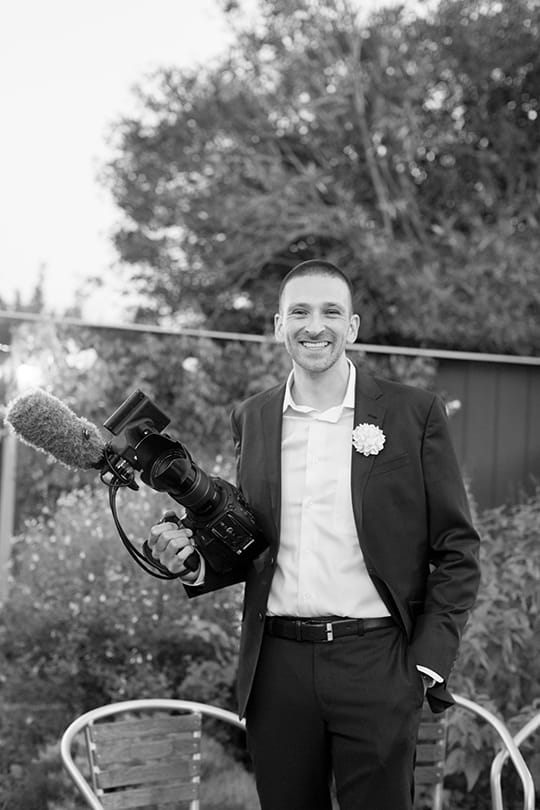 I've lived in Oakland since I was six months old. I went to Skyline High and as a student I worked at KDOL, the school district's television station. I had a pretty cool job on the show Homework Hotline where I was on live TV 4 days a week. When I wasn't on the air, I was learning the ropes of shooting & editing video. It seemed I had a knack for it and it was fun so I started a business.
In 2003 I shot my first wedding. By 2008, I'd learned two important things about wedding videography. First, one great videographer with one camera makes for a far more enjoyable and high quality video than multiple mediocre videographers with several cameras. Second, the long cheesy edits were a thing of the past. With my visual style refined and my unique way of capturing weddings, Final Frame was born.
Over the last 10 years I've shot more than 500 weddings by myself with one camera. And I'm proud to say my clients have been absolutely thrilled with the results. I hope I'll have the honor of being able to capture your special day so you can relive it for decades to come.
"One guy. One camera. Wedding videos that don't suck."
Graham King
People Are Talking About Graham

"Thank you Graham, for the lovely video!"
"He has a great touch with the camera-shy; he promised us that we wouldn't even notice him after the first few minutes, and he was right. But more importantly he did a great job with the final edit."
Stacy 9.16.2017

"I barely noticed Graham was there."
"We are thoroughly impressed with how cohesively it was put together. He truly made a story. We love his cinematographic approach and found his perspectives and angles artistic."
Thao 7.16.2017

"Graham did an amazing job"
"His documentary edit caught all our favorite moments and so much more. Somehow he was everywhere even though he blended right in on the day of. Our only regret was not booking him for overtime!"
Theresa 6.9.2017

"Graham is professional in every way."
"Wedding day came and he was there every moment and captured all the highlights, moments we missed and the interviews are amazing! The video is outstanding quality and my husband and I couldn't be happier!"
Elise 2.18.2017
510.746.8240 | graham@finalframe.com
2315 Lincoln Avenue, Alameda, CA 94501
Site Designed by Graham King © 2021 Final Frame Studios Inc.